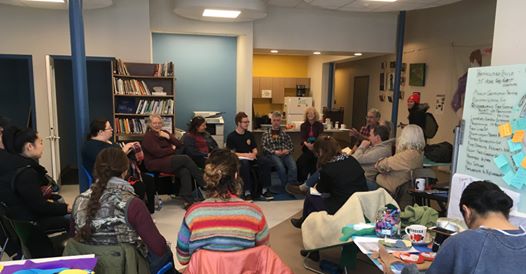 The Mutual Aid Workspace ("the MAW") is the large space you find yourself in when you walk into the iconic Social Justice Center on Willy Street. But it's much more than just a space. It's a project of the Madison Mutual Aid Network, (website and Facebook), and is intended to allow its member organizations (which include MCDC) to share resources and cross-pollinate their ideas and efforts. Sadly, none of them get to use the space for its intended purpose during the pandemic, but many of them continue to use it as a mailing address, and activities are still going on, now online.
The MAW recently received a grant from MCDC to formalize its processes, take on paid staff, and expand its online presence. It plans to give support to groups of people with limited means and help them develop self-reliance through cooperative businesses, timebanking, and other innovative ways of sharing resources.

To learn more about the MAW, write Stephanie Rearick. To learn more about MCDC, write Steve Herrick or Charity Schmidt.